Production Capacity
Our company is mainly engaged in the manufacturing and machining of large forgings. With a 7000-ton hydraulic machine, we are able to process large forged parts with the weight below 70 tons. Our annual output reaches 80,000 tons.
We forge propeller shaft, intermediate shaft, and bent rudder stock of 10,000-300,000 tons of ocean-going ships for domestic and foreign shipyards. For wind power companies, we provide rotor shaft for wind turbine with the capacity ranging from 0.85 MW to 5 MW. For companies in the metallurgical industry, we offer various types of large work rolls and support rolls. For pressure vessels manufacturers or companies in petrochemical industry, we offer a variety of shells and hydro-cylinders. Large rotor shaft and impeller are provided for motor and steam turbine plants as well.
The open-die forging hydraulic press has been designed with four columns, three cylinders and a pull-down structure. It is characterized by fast forging, high degree of automation, and strong resistance to eccentric load capability.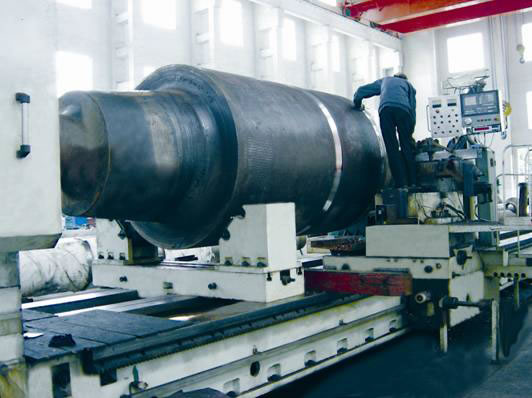 The large vertical sawing machine has a working diameter of 2 m.
Our heat treatment equipment includes a large heating furnace, normalizing furnace, tempering machine, and a quenching pool which is 22000mm × 5000mm × 4500 mm in size.
These processing machines work in perfect conditions; they can meet the manufacturing and processing needs on forged parts for civil nuclear facilities.
We have a 100-ton bipolar tandem electroslag remelting furnace which provides high quality steel ingot for the manufacture of nuclear power forged parts. In addition, a 17000-ton hydraulic machine is under construction. Once completed, it can produce super large forged parts for use in the nuclear energy, ship, metallurgy, and other fields.